Our Pools Mainpage: www.suprnova.cc. Our Twitter: twitter.com/SuprnovaPools Be sure to follow us for updates and news !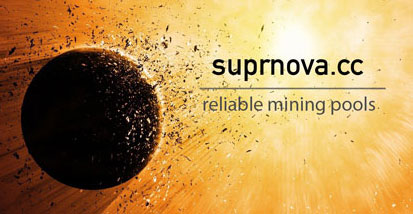 This is a
NGv2
Pool - you can use your Suprnova unified login here ! (All Suprnova Pools with this logo share the same login and worker information - no need to re-set everything !)
Suprnova's btczCoin Pool // Algo: equihash 144,5 // LIVE !
stratum+tcp://btcz.suprnova.cc:6586
EWBF:
miner.exe --algo 144_5 --pers auto --server btcz.suprnova.cc --user Username.Workername --pass x --port 6586
"Zhash"-Port is 6586 for GPU and 6587 for CPU. SSL: 6588
Merry X-mas 0% fee until 01/01/2019 !
Round Statistics
Block Statistics
PPLNS Round Statistics
ID
1,633,468
PPLNS Shares
1,645,421
Height
297,141
Estimated Shares
794,664
Amount
12500.00010408
Target Variance
48.30 %
Confirmations
Confirmed
Block Average
1,645,537
Difficulty
3104.1554188445
Average Efficiency
48.29 %
Time
2019-02-11 17:54:40
Target Rounds
10
Shares
2,738,696
Seconds This Round
2,073
Finder
TRIFLE
Round Variance
166.44 %
Round Transactions
| User Name | Round Shares | Round % | PPLNS Shares | PPLNS Round % | Variance | Amount |
| --- | --- | --- | --- | --- | --- | --- |
| clickgamemuk | 271,634 | 9.92 | 126,842 | 7.71 | 77.72 | 963.56995802 |
| anonymous | 195,850 | 7.15 | 96,164 | 5.84 | 81.73 | 730.52535358 |
| anonymous | 203,998 | 7.45 | 95,928 | 5.83 | 78.27 | 728.73217732 |
| anonymous | 143,327 | 5.23 | 75,268 | 4.57 | 87.41 | 571.78940851 |
| qc2404 | 144,385 | 5.27 | 69,568 | 4.23 | 80.20 | 528.48680315 |
| anonymous | 128,676 | 4.70 | 67,074 | 4.08 | 86.76 | 509.54118674 |
| anonymous | 128,997 | 4.71 | 57,531 | 3.50 | 74.23 | 437.04672114 |
| Jure2311 | 115,489 | 4.22 | 55,275 | 3.36 | 79.66 | 419.90657725 |
| anonymous | 118,623 | 4.33 | 54,945 | 3.34 | 77.09 | 417.39719973 |
| fukuo201803 | 93,587 | 3.42 | 46,878 | 2.85 | 83.37 | 356.11541922 |
| matchan | 89,901 | 3.28 | 44,893 | 2.73 | 83.12 | 341.03616409 |
| Verbatim | 72,928 | 2.66 | 38,445 | 2.34 | 87.74 | 292.05231618 |
| anonymous | 60,402 | 2.21 | 31,689 | 1.93 | 87.32 | 240.73280950 |
| akokkon | 39,687 | 1.45 | 31,500 | 1.91 | 132.11 | 239.29342699 |
| anonymous | 79,950 | 2.92 | 31,428 | 1.91 | 65.43 | 238.75322699 |
| anonymous | 66,504 | 2.43 | 29,615 | 1.80 | 74.12 | 224.97890562 |
| vblues | 56,989 | 2.08 | 28,321 | 1.72 | 82.72 | 215.14916179 |
| newfacemedia | 53,518 | 1.95 | 23,378 | 1.42 | 72.71 | 177.59780648 |
| anonymous | 48,971 | 1.79 | 22,388 | 1.36 | 76.09 | 170.07928017 |
| TRIFLE | 45,758 | 1.67 | 21,616 | 1.31 | 78.63 | 164.21386262 |
| inabayamane | 40,061 | 1.46 | 19,971 | 1.21 | 82.97 | 151.71883376 |
| g844631 | 43,495 | 1.59 | 19,883 | 1.21 | 76.09 | 151.04645626 |
| hikata2018 | 34,154 | 1.25 | 18,407 | 1.12 | 89.70 | 139.83349616 |
| warcraft | 36,260 | 1.32 | 17,187 | 1.04 | 78.89 | 130.56950484 |
| anonymous | 35,217 | 1.29 | 17,169 | 1.04 | 81.14 | 130.43288234 |
| cthulhu | 35,980 | 1.31 | 16,978 | 1.03 | 78.54 | 128.97983482 |
| Humphries365 | 32,305 | 1.18 | 16,664 | 1.01 | 85.86 | 126.59511980 |
| anonymous | 34,552 | 1.26 | 16,477 | 1.00 | 79.37 | 125.17491479 |
| fedoss65 | 35,248 | 1.29 | 15,829 | 0.96 | 74.75 | 120.24998975 |
| Sufod | 33,779 | 1.23 | 15,432 | 0.94 | 76.04 | 117.23694723 |
| afinity | 32,139 | 1.17 | 15,274 | 0.93 | 79.10 | 116.03128972 |
| anonymous | 29,683 | 1.08 | 14,675 | 0.89 | 82.29 | 111.48054093 |
| ikavalov | 33,030 | 1.21 | 14,217 | 0.86 | 71.64 | 108.00313715 |
| soundmoney | 31,329 | 1.14 | 13,798 | 0.84 | 73.31 | 104.82438337 |
| anonymous | 29,215 | 1.07 | 12,201 | 0.74 | 69.51 | 92.68921702 |
| anonymous | 24,799 | 0.91 | 11,884 | 0.72 | 79.76 | 90.28097575 |
| azzza1707 | 23,702 | 0.87 | 11,661 | 0.71 | 81.89 | 88.58436199 |
| JimmyT | 23,838 | 0.87 | 10,913 | 0.66 | 76.20 | 82.90622069 |
| brest | 27,250 | 0.99 | 10,806 | 0.66 | 66.00 | 82.09191818 |
| Energy1919 | 25,536 | 0.93 | 10,733 | 0.65 | 69.96 | 81.54142943 |
| anonymous | 22,156 | 0.81 | 10,714 | 0.65 | 80.49 | 81.39523568 |
| Zemp | 23,147 | 0.85 | 10,376 | 0.63 | 74.61 | 78.82545816 |
| anonymous | 22,947 | 0.84 | 10,375 | 0.63 | 75.25 | 78.81644691 |
| Hell666 | 21,857 | 0.80 | 10,310 | 0.63 | 78.51 | 78.32517565 |
| SkyFox | 24,159 | 0.88 | 10,093 | 0.61 | 69.54 | 76.67582939 |
| anonymous | 18,129 | 0.66 | 9,817 | 0.60 | 90.13 | 74.58211187 |
| camronrb | 17,587 | 0.64 | 8,886 | 0.54 | 84.10 | 67.50783931 |
| yulonglong | 19,483 | 0.71 | 8,855 | 0.54 | 75.65 | 67.27389806 |
| Shuby | 20,517 | 0.75 | 8,844 | 0.54 | 71.75 | 67.18956806 |
| nixyace | 19,571 | 0.71 | 8,827 | 0.54 | 75.07 | 67.05865056 |
| mazarelli | 16,775 | 0.61 | 8,729 | 0.53 | 86.61 | 66.31766805 |
| EmptySD | 17,801 | 0.65 | 8,498 | 0.52 | 79.46 | 64.56042304 |
| eviqs | 15,434 | 0.56 | 8,149 | 0.50 | 87.88 | 61.91129927 |
| anonymous | 16,621 | 0.61 | 7,935 | 0.48 | 79.46 | 60.28294300 |
| m666ka | 17,676 | 0.65 | 7,850 | 0.48 | 73.92 | 59.63987675 |
| yuichiro | 15,687 | 0.57 | 7,384 | 0.45 | 78.35 | 56.09536047 |
| anonymous | 15,884 | 0.58 | 7,310 | 0.44 | 76.60 | 55.53416171 |
| anonymous | 13,413 | 0.49 | 6,946 | 0.42 | 86.19 | 52.77308294 |
| brasnarq | 14,348 | 0.52 | 6,906 | 0.42 | 80.11 | 52.46916919 |
| anonymous | 14,957 | 0.55 | 6,524 | 0.40 | 72.60 | 49.56137041 |
| tsp27 | 12,766 | 0.47 | 6,296 | 0.38 | 82.09 | 47.83338040 |
| anonymous | 13,934 | 0.51 | 6,241 | 0.38 | 74.55 | 47.41741539 |
| serovservic | 6,694 | 0.24 | 6,172 | 0.38 | 153.46 | 46.88724289 |
| kudepsta | 14,105 | 0.52 | 5,977 | 0.36 | 70.53 | 45.41199163 |
| milhash2 | 11,755 | 0.43 | 5,656 | 0.34 | 80.09 | 42.96869661 |
| Brat2114 | 11,601 | 0.42 | 5,502 | 0.33 | 78.94 | 41.79860160 |
| Nezavisimus | 13,112 | 0.48 | 5,248 | 0.32 | 66.62 | 39.87203533 |
| dendy88 | 10,899 | 0.40 | 4,982 | 0.30 | 76.08 | 37.84801657 |
| Lolliedieb | 10,120 | 0.37 | 4,869 | 0.30 | 80.08 | 36.99023781 |
| coinscrow | 5,067 | 0.19 | 4,748 | 0.29 | 155.96 | 36.07197655 |
| sacho4ek79a | 10,692 | 0.39 | 4,674 | 0.28 | 72.76 | 35.51018530 |
| dolcsika | 9,654 | 0.35 | 4,660 | 0.28 | 80.34 | 35.40154529 |
| jettbtcz | 9,748 | 0.36 | 4,656 | 0.28 | 79.50 | 35.37682404 |
| juggernautsei | 9,297 | 0.34 | 4,482 | 0.27 | 80.24 | 34.05094903 |
| aykutcanturk | 8,037 | 0.29 | 4,210 | 0.26 | 87.19 | 31.98812152 |
| anonymous | 8,313 | 0.30 | 4,150 | 0.25 | 83.09 | 31.52715276 |
| saymeomgplz | 8,402 | 0.31 | 3,719 | 0.23 | 73.67 | 28.25300774 |
| anonymous | 8,071 | 0.29 | 3,578 | 0.22 | 73.79 | 27.18538773 |
| Lordpleb | 7,107 | 0.26 | 3,370 | 0.20 | 78.92 | 25.60472146 |
| uyrec2 | 6,809 | 0.25 | 3,208 | 0.19 | 78.42 | 24.37568020 |
| artyom920 | 6,203 | 0.23 | 3,106 | 0.19 | 83.34 | 23.59908395 |
| codec192 | 5,932 | 0.22 | 2,915 | 0.18 | 81.79 | 22.15130518 |
| anonymous | 6,383 | 0.23 | 2,657 | 0.16 | 69.28 | 20.18986642 |
| sendamer | 6,038 | 0.22 | 2,436 | 0.15 | 67.15 | 18.50673640 |
| SEND2050 | 4,582 | 0.17 | 2,376 | 0.14 | 86.31 | 18.05172515 |
| snakesampson | 4,245 | 0.16 | 2,162 | 0.13 | 84.77 | 16.42580514 |
| anonymous | 4,195 | 0.15 | 1,943 | 0.12 | 77.09 | 14.76192762 |
| Tarantulo | 3,065 | 0.11 | 1,654 | 0.10 | 89.82 | 12.56845760 |
| senzujedi | 3,338 | 0.12 | 1,554 | 0.09 | 77.49 | 11.80619385 |
| supervitek | 3,561 | 0.13 | 1,453 | 0.09 | 67.91 | 11.04109509 |
| anonymous | 3,507 | 0.13 | 1,438 | 0.09 | 68.25 | 10.92598884 |
| cheus | 2,392 | 0.09 | 1,007 | 0.06 | 70.07 | 7.65631256 |
| anonymous | 1,972 | 0.07 | 881 | 0.05 | 74.36 | 6.69416881 |
| intianity | 1,563 | 0.06 | 646 | 0.04 | 68.79 | 4.90885754 |
| galvova | 1,270 | 0.05 | 562 | 0.03 | 73.65 | 4.27462379 |
| Rank | User Name | Valid | Invalid | Invalid % |
| --- | --- | --- | --- | --- |
| 1 | clickgamemuk | 271,634 | 509 | 0.19 |
| 2 | anonymous | 203,998 | 895 | 0.44 |
| 3 | anonymous | 195,850 | 401 | 0.20 |
| 4 | qc2404 | 144,385 | 98 | 0.07 |
| 5 | anonymous | 143,327 | 0 | 0.00 |
| 6 | anonymous | 128,997 | 60 | 0.05 |
| 7 | anonymous | 128,676 | 58 | 0.05 |
| 8 | anonymous | 118,623 | 166 | 0.14 |
| 9 | Jure2311 | 115,489 | 207 | 0.18 |
| 10 | fukuo201803 | 93,587 | 582 | 0.62 |
| 11 | matchan | 89,901 | 656 | 0.73 |
| 12 | anonymous | 79,950 | 0 | 0.00 |
| 13 | Verbatim | 72,928 | 0 | 0.00 |
| 14 | anonymous | 66,504 | 44 | 0.07 |
| 15 | anonymous | 60,402 | 0 | 0.00 |
| 16 | vblues | 56,989 | 94 | 0.16 |
| 17 | newfacemedia | 53,518 | 0 | 0.00 |
| 18 | anonymous | 48,971 | 59 | 0.12 |
| 19 | TRIFLE | 45,758 | 23 | 0.05 |
| 20 | g844631 | 43,495 | 8 | 0.02 |
| 21 | inabayamane | 40,061 | 147 | 0.37 |
| 22 | akokkon | 39,687 | 0 | 0.00 |
| 23 | warcraft | 36,260 | 0 | 0.00 |
| 24 | cthulhu | 35,980 | 0 | 0.00 |
| 25 | fedoss65 | 35,248 | 0 | 0.00 |
| 26 | anonymous | 35,217 | 10 | 0.03 |
| 27 | anonymous | 34,552 | 103 | 0.30 |
| 28 | hikata2018 | 34,154 | 0 | 0.00 |
| 29 | Sufod | 33,779 | 0 | 0.00 |
| 30 | ikavalov | 33,030 | 20 | 0.06 |
| 31 | Humphries365 | 32,305 | 0 | 0.00 |
| 32 | afinity | 32,139 | 0 | 0.00 |
| 33 | soundmoney | 31,329 | 61 | 0.19 |
| 34 | anonymous | 29,683 | 0 | 0.00 |
| 35 | anonymous | 29,215 | 0 | 0.00 |
| 36 | brest | 27,250 | 160 | 0.59 |
| 37 | Energy1919 | 25,536 | 0 | 0.00 |
| 38 | anonymous | 24,799 | 0 | 0.00 |
| 39 | SkyFox | 24,159 | 135 | 0.56 |
| 40 | JimmyT | 23,838 | 0 | 0.00 |
| 41 | azzza1707 | 23,702 | 778 | 3.28 |
| 42 | Zemp | 23,147 | 0 | 0.00 |
| 43 | anonymous | 22,947 | 74 | 0.32 |
| 44 | anonymous | 22,156 | 116 | 0.52 |
| 45 | Hell666 | 21,857 | 0 | 0.00 |
| 46 | Shuby | 20,517 | 0 | 0.00 |
| 47 | nixyace | 19,571 | 104 | 0.53 |
| 48 | yulonglong | 19,483 | 0 | 0.00 |
| 49 | anonymous | 18,129 | 55 | 0.30 |
| 50 | EmptySD | 17,801 | 0 | 0.00 |
| 51 | m666ka | 17,676 | 0 | 0.00 |
| 52 | camronrb | 17,587 | 0 | 0.00 |
| 53 | mazarelli | 16,775 | 0 | 0.00 |
| 54 | anonymous | 16,621 | 0 | 0.00 |
| 55 | anonymous | 15,884 | 0 | 0.00 |
| 56 | yuichiro | 15,687 | 178 | 1.13 |
| 57 | eviqs | 15,434 | 27 | 0.17 |
| 58 | anonymous | 14,957 | 0 | 0.00 |
| 59 | brasnarq | 14,348 | 0 | 0.00 |
| 60 | kudepsta | 14,105 | 0 | 0.00 |
| 61 | anonymous | 13,934 | 79 | 0.57 |
| 62 | anonymous | 13,413 | 0 | 0.00 |
| 63 | Nezavisimus | 13,112 | 0 | 0.00 |
| 64 | tsp27 | 12,766 | 0 | 0.00 |
| 65 | milhash2 | 11,755 | 87 | 0.74 |
| 66 | Brat2114 | 11,601 | 0 | 0.00 |
| 67 | dendy88 | 10,899 | 0 | 0.00 |
| 68 | sacho4ek79a | 10,692 | 0 | 0.00 |
| 69 | Lolliedieb | 10,120 | 42 | 0.42 |
| 70 | jettbtcz | 9,748 | 0 | 0.00 |
| 71 | dolcsika | 9,654 | 0 | 0.00 |
| 72 | juggernautsei | 9,297 | 54 | 0.58 |
| 73 | saymeomgplz | 8,402 | 0 | 0.00 |
| 74 | anonymous | 8,313 | 0 | 0.00 |
| 75 | anonymous | 8,071 | 0 | 0.00 |
| 76 | aykutcanturk | 8,037 | 50 | 0.62 |
| 77 | Lordpleb | 7,107 | 0 | 0.00 |
| 78 | uyrec2 | 6,809 | 0 | 0.00 |
| 79 | serovservic | 6,694 | 0 | 0.00 |
| 80 | anonymous | 6,383 | 0 | 0.00 |
| 81 | artyom920 | 6,203 | 0 | 0.00 |
| 82 | sendamer | 6,038 | 0 | 0.00 |
| 83 | codec192 | 5,932 | 47 | 0.79 |
| 84 | coinscrow | 5,067 | 37 | 0.73 |
| 85 | SEND2050 | 4,582 | 0 | 0.00 |
| 86 | snakesampson | 4,245 | 0 | 0.00 |
| 87 | anonymous | 4,195 | 7 | 0.17 |
| 88 | supervitek | 3,561 | 0 | 0.00 |
| 89 | anonymous | 3,507 | 0 | 0.00 |
| 90 | senzujedi | 3,338 | 32 | 0.96 |
| 91 | Tarantulo | 3,065 | 0 | 0.00 |
| 92 | cheus | 2,392 | 6,136 | 256.52 |
| 93 | anonymous | 1,972 | 0 | 0.00 |
| 94 | intianity | 1,563 | 0 | 0.00 |
| 95 | galvova | 1,270 | 0 | 0.00 |
PPLNS Round Shares
| Rank | User Name | Valid | Invalid | Invalid % |
| --- | --- | --- | --- | --- |
| 1 | clickgamemuk | 126,842 | 496 | 0.39 |
| 2 | anonymous | 96,164 | 205 | 0.21 |
| 3 | anonymous | 95,928 | 309 | 0.32 |
| 4 | anonymous | 75,268 | 0 | 0.00 |
| 5 | qc2404 | 69,568 | 0 | 0.00 |
| 6 | anonymous | 67,074 | 0 | 0.00 |
| 7 | anonymous | 57,531 | 0 | 0.00 |
| 8 | Jure2311 | 55,275 | 0 | 0.00 |
| 9 | anonymous | 54,945 | 166 | 0.30 |
| 10 | fukuo201803 | 46,878 | 440 | 0.94 |
| 11 | matchan | 44,893 | 277 | 0.62 |
| 12 | Verbatim | 38,445 | 0 | 0.00 |
| 13 | anonymous | 31,689 | 0 | 0.00 |
| 14 | akokkon | 31,500 | 0 | 0.00 |
| 15 | anonymous | 31,428 | 0 | 0.00 |
| 16 | anonymous | 29,615 | 0 | 0.00 |
| 17 | vblues | 28,321 | 37 | 0.13 |
| 18 | newfacemedia | 23,378 | 0 | 0.00 |
| 19 | anonymous | 22,388 | 59 | 0.26 |
| 20 | TRIFLE | 21,616 | 0 | 0.00 |
| 21 | inabayamane | 19,971 | 128 | 0.64 |
| 22 | g844631 | 19,883 | 1 | 0.01 |
| 23 | hikata2018 | 18,407 | 0 | 0.00 |
| 24 | warcraft | 17,187 | 0 | 0.00 |
| 25 | anonymous | 17,169 | 0 | 0.00 |
| 26 | cthulhu | 16,978 | 0 | 0.00 |
| 27 | Humphries365 | 16,664 | 0 | 0.00 |
| 28 | anonymous | 16,477 | 44 | 0.27 |
| 29 | fedoss65 | 15,829 | 0 | 0.00 |
| 30 | Sufod | 15,432 | 0 | 0.00 |
| 31 | afinity | 15,274 | 0 | 0.00 |
| 32 | anonymous | 14,675 | 0 | 0.00 |
| 33 | ikavalov | 14,217 | 0 | 0.00 |
| 34 | soundmoney | 13,798 | 61 | 0.44 |
| 35 | anonymous | 12,201 | 0 | 0.00 |
| 36 | anonymous | 11,884 | 0 | 0.00 |
| 37 | azzza1707 | 11,661 | 356 | 3.05 |
| 38 | JimmyT | 10,913 | 0 | 0.00 |
| 39 | brest | 10,806 | 128 | 1.18 |
| 40 | Energy1919 | 10,733 | 0 | 0.00 |
| 41 | anonymous | 10,714 | 116 | 1.08 |
| 42 | Zemp | 10,376 | 0 | 0.00 |
| 43 | anonymous | 10,375 | 0 | 0.00 |
| 44 | Hell666 | 10,310 | 0 | 0.00 |
| 45 | SkyFox | 10,093 | 135 | 1.34 |
| 46 | anonymous | 9,817 | 55 | 0.56 |
| 47 | camronrb | 8,886 | 0 | 0.00 |
| 48 | yulonglong | 8,855 | 0 | 0.00 |
| 49 | Shuby | 8,844 | 0 | 0.00 |
| 50 | nixyace | 8,827 | 43 | 0.49 |
| 51 | mazarelli | 8,729 | 0 | 0.00 |
| 52 | EmptySD | 8,498 | 0 | 0.00 |
| 53 | eviqs | 8,149 | 0 | 0.00 |
| 54 | anonymous | 7,935 | 0 | 0.00 |
| 55 | m666ka | 7,850 | 0 | 0.00 |
| 56 | yuichiro | 7,384 | 56 | 0.76 |
| 57 | anonymous | 7,310 | 0 | 0.00 |
| 58 | anonymous | 6,946 | 0 | 0.00 |
| 59 | brasnarq | 6,906 | 0 | 0.00 |
| 60 | anonymous | 6,524 | 0 | 0.00 |
| 61 | tsp27 | 6,296 | 0 | 0.00 |
| 62 | anonymous | 6,241 | 79 | 1.27 |
| 63 | serovservic | 6,172 | 0 | 0.00 |
| 64 | kudepsta | 5,977 | 0 | 0.00 |
| 65 | milhash2 | 5,656 | 0 | 0.00 |
| 66 | Brat2114 | 5,502 | 0 | 0.00 |
| 67 | Nezavisimus | 5,248 | 0 | 0.00 |
| 68 | dendy88 | 4,982 | 0 | 0.00 |
| 69 | Lolliedieb | 4,869 | 15 | 0.31 |
| 70 | coinscrow | 4,748 | 37 | 0.78 |
| 71 | sacho4ek79a | 4,674 | 0 | 0.00 |
| 72 | dolcsika | 4,660 | 0 | 0.00 |
| 73 | jettbtcz | 4,656 | 0 | 0.00 |
| 74 | juggernautsei | 4,482 | 0 | 0.00 |
| 75 | aykutcanturk | 4,210 | 0 | 0.00 |
| 76 | anonymous | 4,150 | 0 | 0.00 |
| 77 | saymeomgplz | 3,719 | 0 | 0.00 |
| 78 | anonymous | 3,578 | 0 | 0.00 |
| 79 | Lordpleb | 3,370 | 0 | 0.00 |
| 80 | uyrec2 | 3,208 | 0 | 0.00 |
| 81 | artyom920 | 3,106 | 0 | 0.00 |
| 82 | codec192 | 2,915 | 26 | 0.89 |
| 83 | anonymous | 2,657 | 0 | 0.00 |
| 84 | sendamer | 2,436 | 0 | 0.00 |
| 85 | SEND2050 | 2,376 | 0 | 0.00 |
| 86 | snakesampson | 2,162 | 0 | 0.00 |
| 87 | anonymous | 1,943 | 0 | 0.00 |
| 88 | Tarantulo | 1,654 | 0 | 0.00 |
| 89 | senzujedi | 1,554 | 11 | 0.71 |
| 90 | supervitek | 1,453 | 0 | 0.00 |
| 91 | anonymous | 1,438 | 0 | 0.00 |
| 92 | cheus | 1,007 | 3,007 | 298.61 |
| 93 | anonymous | 881 | 0 | 0.00 |
| 94 | intianity | 646 | 0 | 0.00 |
| 95 | galvova | 562 | 0 | 0.00 |